How to Host a Successful Metaverse Event: Tips and Guidelines
The Metaverse provides an immersive environment in which to hold events, socialize, shop, work, and much more. With the broad adoption of AR and VR, an increasing number of people are venturing into virtual worlds.
This provides an ideal chance for individuals to conduct "metaverse events" to deliver immersive experiences such as concerts, conferences, shows, and festivals.
Decentraland's Metaverse Fashion Week, for example, drew 108,000 visitors over the course of five days. Dolce & Gabbana, Tommy Hilfiger, Esteé Lauder, and other major brands were represented during the event.
Because brands are not limited by physical boundaries, these 3D virtual events may be entirely tailored. As always, the goal is to deliver immersive, engaging experiences through the use of developing technology.
What Exactly is A Metaverse Event?
Metaverse events are 3D virtual events that take place within simulated reality. Users can fully immerse themselves in these events by wearing VR headsets.
People from all over the world can participate, and event organizers have complete control over every aspect of the event experience. They may use 3D designs to tailor the environment, deliver immensely engaging experiences, and much more.
These events provide a wonderful opportunity for businesses to market their products by connecting with customers online. Because the Metaverse is expected to be the future of social media, it is an ideal location for connecting with enormous audiences.
Participants can participate from anywhere as long as they have an internet connection. While a VR headset is not essential to attend a Metaverse event, it is strongly advised to do so in order to receive the entire experience.
Altspace VR, for example, is well renowned for holding exciting Metaverse events such as concerts, live shows, and more. Artists such as Ariana Grande, Marshmello, and Travis Scott have also performed in virtual reality, with thousands of fans tuning in from all around the world.
Brand launch events, virtual seminars, trade exhibits, live performances, and much more may all take place in the virtual environment!
How Does a Metaverse Event Get Started?
When creating a Metaverse event, there are various factors to consider, such as selecting the correct platform, identifying the intended goal, partnering with the right development team, and much more.
The Metaverse provides endless chances to tailor the event to ensure that it reaches the intended target audience.
Here are five things to bear in mind while hosting or producing a Metaverse event:
The first stage in generating any event, whether in the actual world or the Metaverse, is to define an objective. You will not be able to achieve your goals unless you have a well-defined plan.
The purpose of the event could be to raise awareness of your products and services, monetize creations, and so on. Consider your target audience to determine what style of event will be most appealing to them.
A gamified competition, for example, could be the ideal event if you want to raise awareness among a youthful target group. Create an appropriate event theme and format while finalizing the schedule to start shortlisting what you require for your event.
Read More: Exploring the Valhalla Metaverse – What is It?
Choose a Metaverse Platform
Each Metaverse platform has its own set of advantages and disadvantages. Consider where your target audience would feel most at ease joining. Choosing an unpopular platform with numerous bugs could derail your Metaverse event.
As previously stated, systems such as EventsX and Altspace VR provide a variety of tools for event planning. If users desire a more personalized event, they can choose from predesigned event templates or create their own virtual worlds from scratch.
A dependable 3D developer would also be necessary to create the 3D environment based on your specifications.
Some experiences, such as generating gamified user experiences vs smaller events, might be complex. It is critical to select a platform that provides simple tools for creating customized settings.
Select a Metaverse Event Planning and Management Team
Finding a dependable team might be difficult, but having the appropriate people to rely on to plan and run your Metaverse event is critical. The group includes 3D designers, social media marketers, influencers, virtual event planners, and others.
Look for teams that have a lot of previous expertise in Metaverse tournaments. Request previous examples of their work and carefully consider their pricing to see what is feasible for your needs. Several businesses provide event planning services. If you intend to host several Metaverse events over time, it may be useful to form an in-house team.
The Metaverse Insider has recently formed such a team to assist in the creation of events for customers in the metaverse. This strategy combines marketing and development methods to provide amazing metaverse experiences.
Create Attendee Guidelines
Gathering and preparing your attendees is critical to the success of your Metaverse Event. Every event requires an audience, but attending an event in the real world differs from attending an event in the virtual world.
For example, if attendees are required to join a new platform that they are unfamiliar with, make sure there are instructions in place to help them get the most out of the event.
Furthermore, you can allow your audience to wander through the virtual venue prior to the event or provide virtual 3D tours so that they can become familiar with and appreciate the place before the event begins.
Advertise Your Metaverse Event
Now that you've laid the framework, it's time to start marketing your event to your target demographic. To make a Metaverse event successful, you must develop enough traction to persuade people to attend.
You can start advertising the event through various social media channels by sharing information about it and highlighting the various perks of attending. To pique the interest of potential guests, the content must be highly interesting.
To create interest in the event, event organizers can also use existing metaverse marketing specialists such as the Metaverse Insider. This gives them access to a vast audience of interested people who are familiar with the Metaverse!
Must Check: Meta Quest Pro: All You Need To Know To Become A Pro Player
Plan Metaverse Connections with Your Audience
Many visitors do not stay involved in extended physical events, therefore keeping them engaged in the virtual world can be significantly harder. The Metaverse provides numerous options for increasing engagement through various interactive environments with other venues.
Throughout the event, host lives polls and offer prizes to attendees, participants, and others. This would allow event organizers to communicate with their attendees in real-time and encourage them to participate actively!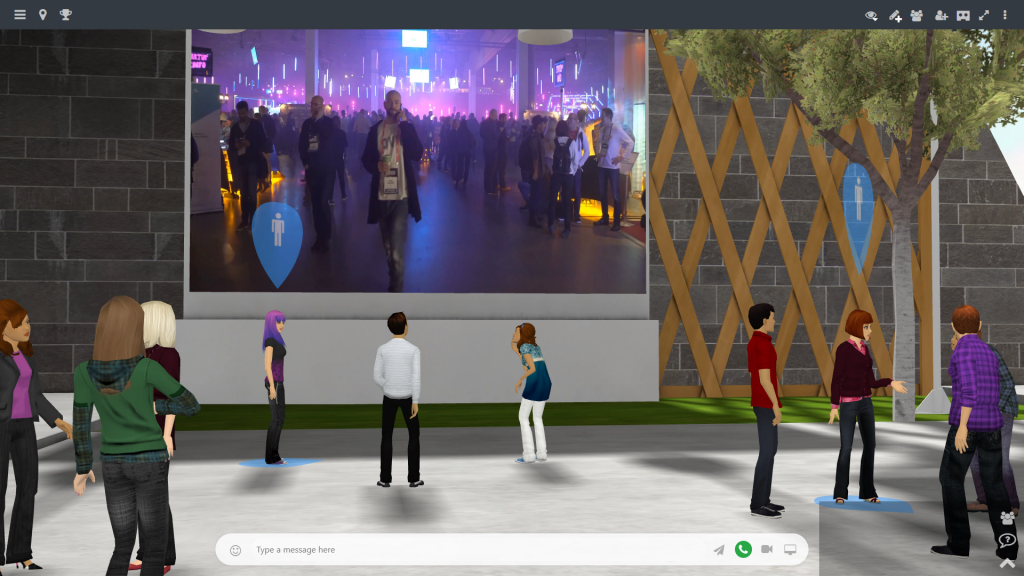 Top 5 Methods for Marketing Your Metaverse Events
Now that you've learned how to establish your event, let's talk about marketing techniques for your Metaverse Event.
Individuals can sell their Metaverse events through social media in a variety of ways. Event organizers can drive interest organically with personalized interactive material or through paid advertisements, collaborations with influencers, and so on.
Generate an ideal customer profile, think about how to reach your ideal event attendee, and create material that speaks to your target demographic.
Obtaining brand exposure and generating interest in participation in the event can be difficult, which is why it is recommended that you collaborate with specialists such as Metaverse Insider to get the most out of your marketing efforts.
Another successful strategy to increase interest in your Metaverse event is to offer unique NFT rewards to those who participate. As interest in digital assets and collectibles grows, creating a one-of-a-kind NFT collection can help draw people to the event.
In 2021, Gucci, for example, offered their "Gucci Garden," where users may go through a unique experience to showcase unique collections. After finishing the tour, their avatar would receive a free Gucci digital NFT collectible to wear.
To stimulate greater interest in the event, you may even build special NFT collections that grant access to private VIP lounges or behind-the-scenes access.
The Metaverse concept is largely concerned with gamifying virtual experiences in order to increase interactivity within virtual reality. Gaming gives an incredible rush, and your Metaverse marketing strategy may contain part of that same adrenaline.
Developing small games in the Metaverse to engage your clients is one of the most effective Metaverse marketing tactics to consider. You can use a number of Metaverse games to keep your visitors engaged, whether you own a fashion company, a sports team, or something else.
Creating a competitive environment might encourage users to get more interested in winning awards, game tokens, brand items, and other benefits.\
Also Read: Experience the Biggie Metaverse in Virtual Reality: A Complete Guide!
Developing Immersive Settings
Your marketing efforts for the Metaverse should not be limited to preset circumstances. You can design highly interactive worlds for your guests to experience before they arrive at the venue. Alternatively, you can present them with virtual 3D tours so that they are already familiar with the space.
Another wonderful option would be to throw a pre-launch party before the event so that participants may mingle and become acquainted with the venue. This can draw a large audience, raise your company's visibility, and drive sales.
By working with influential actors in the Metaverse, you may leverage their platforms to advertise your event. Due to the fact that these individuals/companies already have a substantial number of followers, you can immediately spread the news about your event.
You may also invite influential speakers or entertainers to your event in order to build interest in your products and services.
For example, you can schedule a concert during your event to ensure maximum involvement. During significant Metaverse events, such as fashion weeks, a large number of celebrities perform.
The Advantages of Hosting Metaverse Events
Metaverse Events have numerous advantages, including cost reductions and other advantages. So, here are a few reasons why you should organize and conduct a Metaverse Event.
Globally, digital event platforms are already assisting businesses in saving substantial money. A company can save money by attending digital events in the Metaverse in the areas of staff, venue, setup and takedown, hotels, food, and transport.
The platforms also feature prebuilt event templates, which can significantly reduce development costs and speed up the event design process.
Exceptionally Creative Experiences
There are no limitations to what you want to do. Metaverse Events are significantly more interesting than 2D experiences and may be tailored to your specific requirements.
You can take your attendees on a journey, offer exclusive incentives, market your items in a unique way, generate buzz for new collections, and more.
You can reach a global audience by using the Metaverse because attendees can attend from anywhere using their VR headsets and an internet connection.
This can help your company and its guests overcome geographical barriers. Thus, by targeting a global audience, you may generate a lot more interest and attract a lot of people to come.
When it comes to announcing your event, you have a lot of creative freedom as a corporation. Whether you're organizing a company meeting, a sales launch, or something else, you may have live, immersive sessions or pre-recorded ones, as well as guest speakers and other alternatives.
Analytics Are Easier to Collect.
Companies can track a range of metrics linked to their digital events in the Metaverse to gain very accurate insights into how effectively they are operating.
When hosting digital events, you may collect data about your attendees, such as when they signed in, from where they signed in, how many people attended, how many interactions there were, which sessions hit them the most, and so on.